Why One Brand's Bilibili "University" Attracted Millennials and Gen Z Alike
Plus: Canada Goose targets China, Douyin eyes Hong Kong, and what arts organizations can learn from China's livestreaming trend.
The Content Commerce Insider newsletter highlights how brands create content to drive revenue. If you have received our newsletter from a friend or colleague, we hope you will subscribe as well and follow us on LinkedIn and Instagram.
Efforts by the popular youth-oriented video streamer Bilibili to diversify its content have seen it engage in new partnerships with BBC Studios, Sony, and local studio Huanxi Media that will bring more professionally-produced series and films to the platform. And brands seeking to reach Bilibili's roughly 170 million highly engaged and sticky millennial and Gen Z users have been flocking to establish official accounts offering entertaining content specifically targeted to these valuable demographics. 
A recent campaign from Chinese skincare brand Chando is a case study in the successful use of Bilibili to reach young consumers. While Bilibili originated as a hub for China's ACG (Anime, Comics and Games) subculture, its content has since expanded to cover more general interests such as food, travel, fitness, and beauty, and Chando aims to bridge the gap between Bilibili's core niche groups and the world of mainstream beauty. 
Chando launched its "The Branch Stream University" (支流大学, literally, "tributary" or "non-mainstream" university ) project on October 10 with the release of a video featuring popular Bilibili creators that encouraged young women to be themselves.

The video opens in a futuristic dormitory setting, where young women are exhorted to adhere to certain rules regarding their appearances and personalities: no bizarre makeup, no drama, and so on. But they find acceptance at "The Branch Stream University," where well-known artists such as singer Xie Anran and dancer Xin Xiaomeng are able to express themselves through extravagant outfits, taking to the streets to celebrate their uniqueness. 

The brand created a special section on Bilibili, "Chando's Branch Stream University," that includes content such as makeup tutorials, vlogs, and advice on beauty and skincare routines. 
Chando and Bilibili also released a series of "The Branch Stream University" merchandise that playfully recreates the campus experience, with a collection that includes admission letters, badges, and pins. A pair of Chando's virtual brand ambassadors, named 22 and 33, have been appointed to serve as the student council presidents for this imagined university.
- by Ginger Ooi
Mentioned in today's newsletter: Alibaba, Ant Group, Baidu, Bilibili, Bytedance, Canada Goose, Cartier, Chando, Fliggy, HFP, JD.com, Pechoin, Pinduoduo, Swarovski, Taobao Live, Tencent, The British Museum, Xiaohongshu.
---
Webinar: What Arts Organizations Can Learn From China's Livestreaming Trend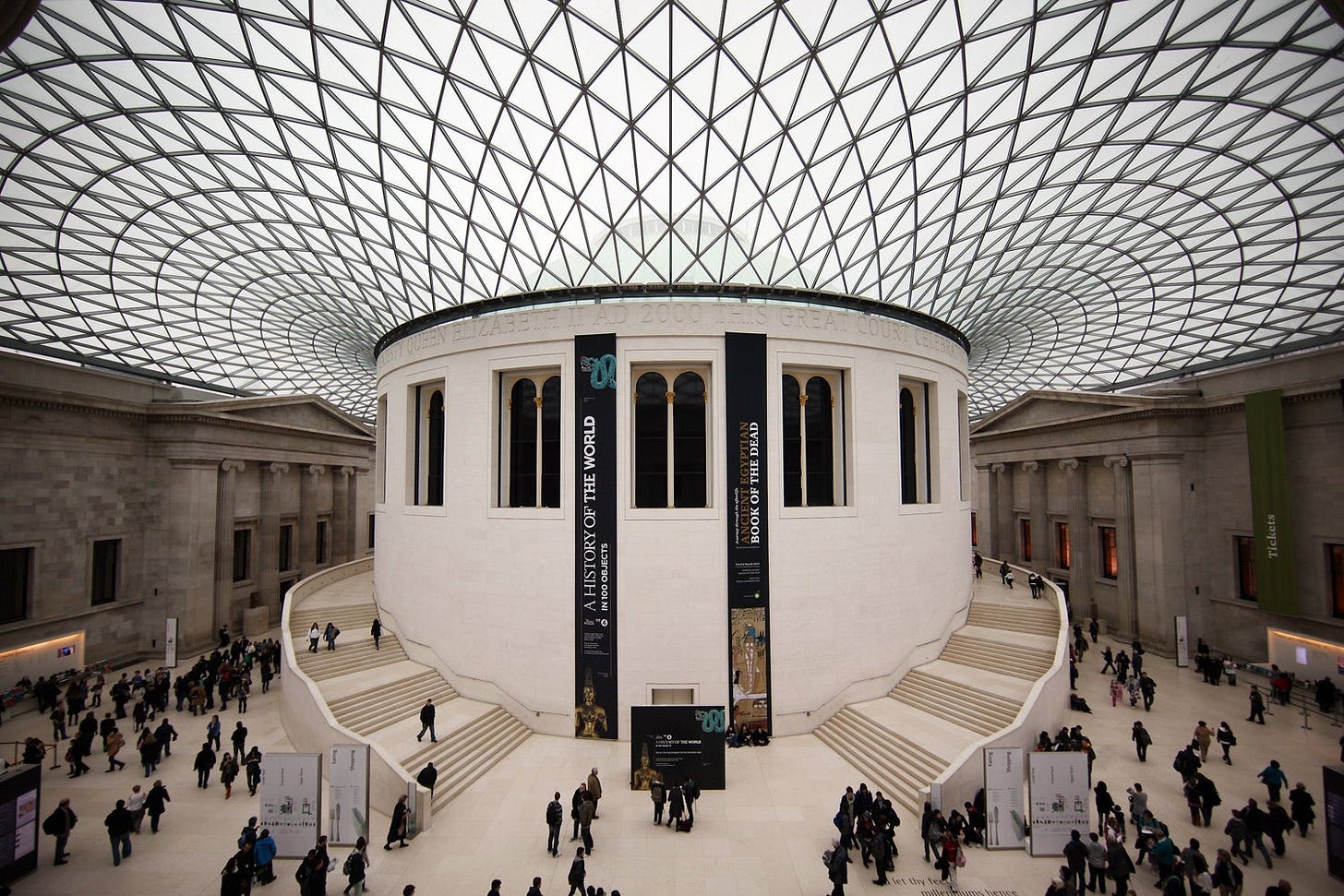 On October 29 at 12:00 PM EDT, join CCI sister site Jing Culture & Commerce, Fliggy—the travel services platform of Alibaba—and The British Museum for an in-depth exploration of livestreaming and its potential for museums, cultural institutions, and related organizations.

During this webinar, the hosts will discuss the booming livestreaming sphere in China, the changing landscape of museum audience engagement during the pandemic, how museums and cultural organizations in other parts of the world are adapting livestreaming strategies and events, and how arts organizations large and small can connect with global audiences and generate new revenue streams through cultural livestreaming.

The webinar will be presented by Peter Huang, Managing Editor of Jing Culture & Commerce and Jing Travel; joined by Ada Xu, Regional Director (Europe & Middle-East), Fliggy; and Natasha Furey, Tours and Groups Manager, The British Museum.
Date: Oct 29, 2020
Time: 12:00 PM Eastern (US and Canada) / 5:00 PM CET
---
Canada Goose Banks On Interactive Pop-Up, Store Openings to Woo Chinese Consumers Closer to Home
by Avery Booker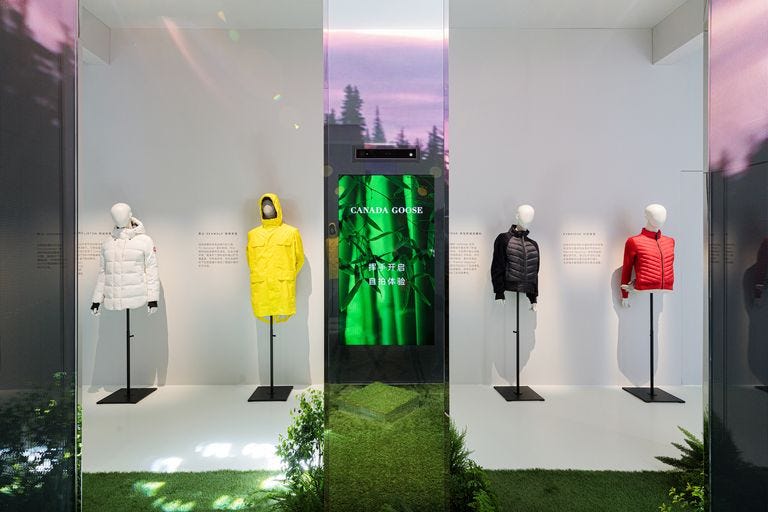 As the ongoing diplomatic spat between Canada and China shows no sign of letting up, Toronto-based winter fashion brand Canada Goose continues to court the Chinese consumers that have become a crucial buyer base for its high-end parkas and down jackets.
Following years of success attracting outbound tourist-shoppers to stores worldwide and, more recently, seeing Chinese consumers shopping locally, Canada Goose recently announced plans to double its retail footprint in China by opening four new stores in the country by March 2021 (representing 60% of its new stores globally).
In addition to taking advantage of increased domestic spending by Chinese consumers who can no longer take their usual trips to North America or Europe, Canada Goose hopes to latch on to China's luxury rebound, which gained pace over the second and third quarters of the year and has seen other brands mount large-scale online and offline events to attract consumers who spent much of the first quarter in lockdown.
Read the full article on Content Commerce Insider
---
To continue to provide the best possible editorial experience, CCI has created our first subscriber survey. We appreciate you sharing your opinion and helping us improve!
The survey is anonymous and should take less than 10 minutes. All answers are used for internal CCI research purposes only and will not be shared with any third parties.
---
Could a Hong Kong Listing for Douyin Mean an Even Greater Focus on Asian Expansion?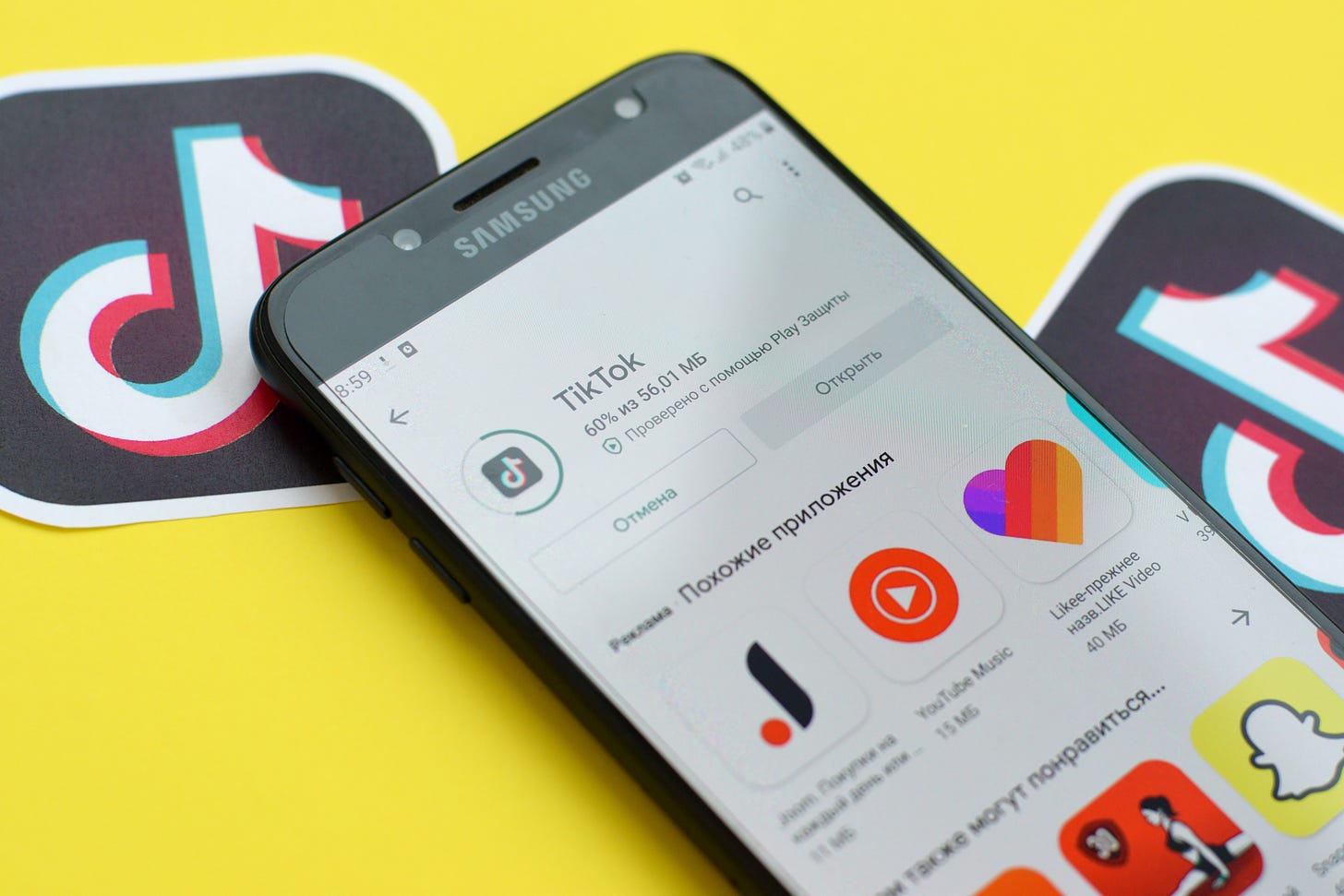 Just as Alibaba spinoff Ant Group prepares for what is set to be the world's biggest-ever IPO, expected to raise $34 billion through a dual listing in Hong Kong and Shanghai, Beijing-based Bytedance is reportedly planning to list its popular app Douyin — TikTok's counterpart in the China market — in Hong Kong. 
According to Reuters, Bytedance is in preliminary discussions with investment banks regarding a standalone IPO for the app, which surpassed 600 million daily active users (DAUs) in August, up from an estimated 400 million at the beginning of 2020. While details remain sketchy, and Bytedance has yet to make any firm statement, such a move would be the latest "near-to-home" listing for a major Chinese tech player.
One of the biggest questions about a possible Douyin IPO is whether it would be limited to Hong Kong or whether Bytedance would pursue a dual listing akin to Ant Group's. As Alex Frew McMillan noted, a Hong Kong listing for Douyin "would give the company exposure to international investors. But stocks trade at much higher premiums in Shanghai and Shenzhen, markets dominated by momentum-driven retail investors who face a dearth of high-quality listings on China's domestic markets."
Read the full article on Content Commerce Insider
---
Brand Film Pick: Pechoin Doubles Its Star Power for Singles' Day Campaign
The 23-year-old idol Wang Yibo has emerged as one of 2020's hottest celebrity spokespersons, picking up nearly two dozen brand deals so far this year, ranging from discount retailer Miniso to premium crystal manufacturer Swarovski, and his commercial value has only increased following his role as the mentor to the winning performer on the latest season of Youku's "Street Dance of China" (这! 就是街舞), which wrapped up earlier this month. 
Brands associated with Wang have tapped him as a key element in their Singles' Day campaigns. Swarovski, for example, launched a limited-edition jewelry collection with Wang for the shopping holiday, while C-beauty brand HFP (HomeFacialPro) sees Wang promoting bottles of HFP serum as he creates an experimental musical composition.
Standing out from the competing flurry of brands using the same celebrity can be challenging during this busy marketing season. Pechoin, another leading C-beauty brand that named Wang as an ambassador this year, paired the young idol with the king of Chinese pop, veteran Jay Chou, who has represented the skincare company since 2016.
Wang and Chou co-star in "Counterclockwise Wheel" (逆时帧之轮), a fanciful tale of time-travel aboard a magical Ferris wheel that they operate, as they help a thirty-something woman go back to relive moments from her life. The film plays on the themes of women and age that have been in the spotlight recently thanks to hit shows such as "Nothing But Thirty" (三十而已) and "Sisters Who Make Waves" (乘风破浪的姐姐), while also making references to Chou's well-known love of magic, and Pechoin's brand is subtly imbued into the story through the use of its signature shade of emerald green throughout.
Pechoin's play for fans of the two superstars appears to be paying off, as its film has been viewed more than 17 million times on Weibo, with its hashtag surpassing 190 million impressions with more than 700,000 posts. 
---
News From China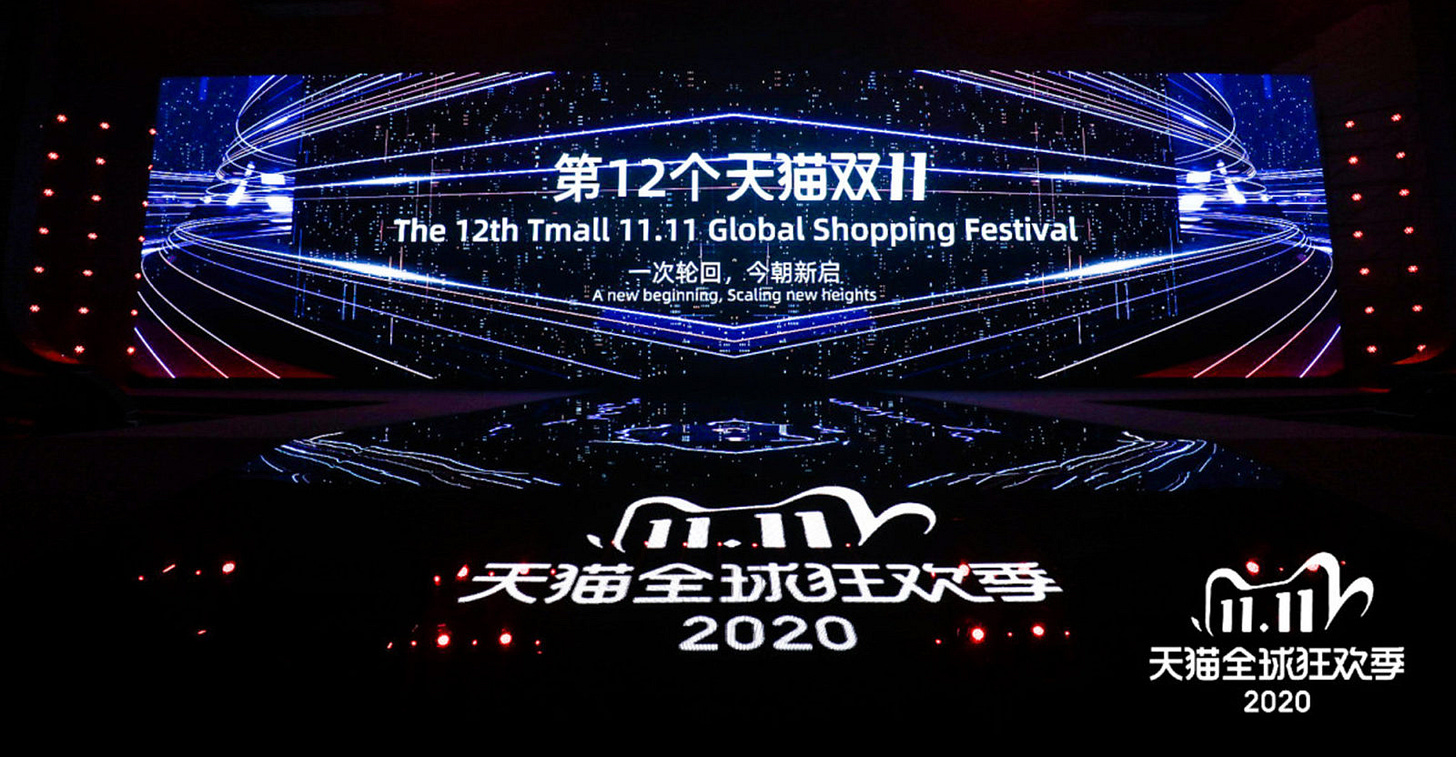 Livestreaming on the first day of Singles' Day presales on October 21 set new records, with Alibaba reporting that last year's day-one total from Taobao Live was surpassed within 10 minutes, and the combined star power of Viya and Li Jiaqi moving an estimated RMB 1 billion ($150 million) worth of products. 
The competition is heating up for top e-commerce platforms to develop splashy content to promote this year's sales. Alibaba's Tmall is planning two major televised galas to promote its two big sales periods this year. The first show will be broadcast on Hunan Satellite TV on October 31, the eve of Alibaba's new early sales period that will run from November 1 to 3, and will feature celebrities such as Jackie Chan, Song Qian, Wang Yibo, and many others.

On November 10, Tmall will host an even bigger extravaganza at the Mercedes-Benz Center in Shanghai that will air on Dragon TV, Zhejiang Satellite TV, Youku, and Taobao Live, with more than 100 stars performing, RMB 500 million ($75 million) in subsidies, and a "5D" viewing experience. 

Meanwhile, Pinduoduo will partner with Hunan Satellite TV for its November 10 evening show, with dozens of celebrity guests and cash giveaways totalling RMB 1 billion ($150 million), while JD.com plans to stick to livestreaming for its gala, which will include more than 30 stars, following the model it used to achieve record sales during June's 618 Shopping Festival. 
Proving just how deep luxury is going into livestreaming, Cartier hosted a major Taobao Live broadcast on October 24 as part of the Singles' Day presales.
Celebrity guests such as Song Qian and Li Xian made appearances to help promote more than 400 items, including a lavish diamond necklace priced at RMB 190 million ($28.3 million). The two-hour broadcast drew more than 776,000 viewers, and is one example of how even the most rarefied brands seek to appeal to Chinese consumers on their own terms during the run-up to this year's Singles' Day. 
iQiyi has released the names of style icon celebrities that will participate in the upcoming second season of its streetwear-focused show "Fourtry" (潮流合伙人), which will be set in the southwestern city of Chengdu.
Singers William Chan, Ouyang Nana, Fan Chengcheng, and fashion blogger Grace Chow will join the previously announced Liu Yuxin of The9, living together for a month while managing a fashion-forward boutique.

The new season, expected to premiere in December, will place a greater emphasis this season on guochao ("national trend") products that reflect China's heritage and traditions, with brands invited to participate in creating special limited-edition products and collaborations for the series. 
A new star for e-commerce livestreaming?
Fu Peng, the former assistant of "lipstick king" Li Jiaqi, made his hotly anticipated solo sales debut on Xiaohongshu on October 21, introducing more than three dozen products over the course of 4.5 hours, with a strong focus on beauty.

While the audience of 726,000 was a small fraction of Li's viewership for a typical livestream sale, those were fairly big numbers for livestreaming on Xiaohongshu, which is still developing it as a sales format, and placed Fu at the top of the platform's daily e-commerce livestreaming rankings. 
---
News in English
We've Got China Covered